The 5 Most Devastating Tornadoes of All Time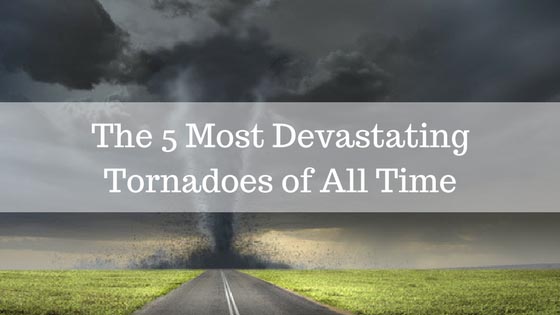 Springtime brings with it warmer weather for certain parts of the globe, though it also has an unwanted meteorological component that often tags along for the ride in tornadoes. The likelihood of devastation and death is often a significant aspect of what this type of weather condition brings about for the unfortunate areas that have to endure such conditions.
Many a tornado has been unleashed over the course of time, with five of them standing out as among the worst in human history:
2015: Yangtze Ferry
In June 2015, a cruise ship carrying 454 people through the Yangtze River in China came across a tornado that caused the vessel to capsize. That proved disastrous for passengers, most of whom were senior citizens, with the tornado lasting less than 20 minutes and spanning a half-mile area.
The area of the disaster had been in a place where a tornado was a regular occurrence, but the ship wasn't designed to hold up against winds of between 80 and 100 miles per hour. Despite that knowledge, passengers weren't wearing life jackets when the ship suddenly capsized.
1851: Sicily
Late that year, waterspouts that combined with a hurricane in Marsala, Sicily eventually evolved into a pair of tornadoes that found their way to Castellamare del Golfo. Given the rarity of a tornado sighting in Italy and the surrounding countries and the primitive meteorological tools available, little preparation was available to residents of these areas.
An estimated 500 people lost their lives, with a good portion of Castellamare quickly becoming a wasteland. 40 percent of the victims came from there, with the local harbor destroyed and others dying because of capsized ships that killed the crews on those vessels.
1551/1556: Valletta
Due to conflicting information, there's some debate about the exact year of this disaster that took place nearly 500 years ago and actually began as a cyclone. One sad truth that's inescapable is that roughly 600 people died when this tornado touched down in Malta's Grand Harbour.
Most of the victims were getting ready to go into a battle on the high seas, with the ships they were on docked. By the time the disaster had ended, the entire armada of the Santa Fe, San Michele, San Filippo, and San Claudio had been wiped out.
March 18, 1925: Tri-State Tornado
The path of a tornado doesn't take the time to consider geography, which in this case encompassed three different states over a 219-mile span: Illinois, Indiana and Missouri. After this lethal tornado was finished 695 people were dead, the victims of winds of up to 300 miles per hour.
Likely the biggest outrage from this disaster is that many people likely could have made it to a tornado shelter had they been given proper warning. Yet weather reports sought to limit any sense of panic and chose not to inform areas that a tornado was enroute. The end result was that the victims of this tragedy were helpless once the tornado touched down.
April 26, 1989: Daultipur and Salturia, Bangladesh
Sadly, this country has been a virtual Ground Zero when it comes to this type of weather issue, which means that this list could conceivably consist of accounts just from Bangladesh. There have been five different cases of a tornado killing at least 500 people, yet the 1989 stands at the top because it resulted in the deaths of an estimated 1,300 people.
The most poverty-stricken areas, lacking any type of tornado shelter, were in the direct path of this storm. There was some speculation that drought conditions helped bring about this storm, which reportedly left 80,000 without a home. One certainty was that every home and tree over a four-mile radius of where the tornado traveled was wiped out.
The Value of Protection
The dangers of tornadoes are sadly on display every year, with the numbers of deaths often limited by the presence of a viable tornado shelter. Without such structures and improved warning signs by meteorologists, the list above would likely end up changing from year to year.