Everything You Need To Know About The Texas Tornado Safe Room Rebate Programs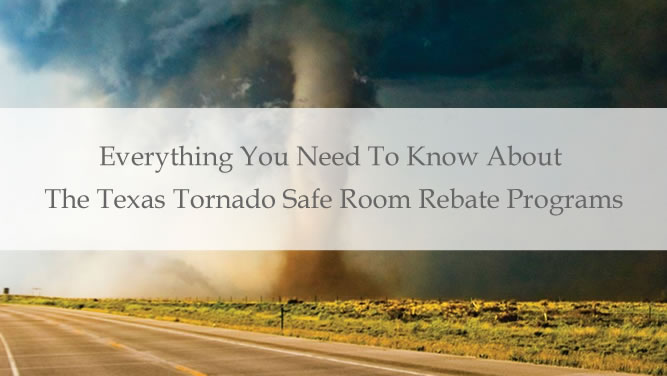 The potential financial and emotional damage that stems from a tornado can not only destroy property but also put lives at risk. That's why more and more people are considering the construction of a tornado safe room, with others unsure about making that type of investment. In the latter case, the reason may simply boil down to limited funds.
Below are some of the ways to obtain funds for safe rooms:
FEMA-Backed Safe Rooms
In order to address that concern, a number of different options exist that can help keep both you and your family safe. Some counties and sections in the Lone Star State are offering Tornado Safe Room Rebate Programs through FEMA. These are offered twice every year, the first time coming in July and the latter occasion taking place in December.
The rebate, covered through the Hazard Mitigation Grant Program (HMGP) and Pre-Disaster Mitigation (PDM), cover half of the cost of any installation, up to a maximum $3,000. HGMP is covered once a federally declared disaster order has been issued. These can be used on any existing or planned residence. All applicants must pay the full amount at the time of purchase, with the rebate process taking anywhere from eight to 12 months,
The residence must be owned at least in part by an occupant, with renters not eligible. Those living in manufactured home must own the property they reside on. Those in homes that are 45 years or older need to have their home reviewed by the Texas Historical Preservation Office, while the finished safe room has to be inspected by a local government official.
Specific counties covered are: Cooke, Fannin, Grayson and Wichita, while those in both the North Central and West Central areas of the state can also receive assistance under this program. Finally, residents of the Panhandle and within the city limits of Benbrook can obtain rebates as well.
Mortgage-Insured Financing Through HUD and FHA
For FHA 203(b) financed new construction and FHA 203(k) rehabilitation loans, HUD began allowing windstorm shelters among eligible work items for borrowers to include in January 2000. Such financing has to be consistent with those in FEMA Publication 320.
Community Development Block Grant Funds
The 2003 Tornado Shelters Act is geared for those living on low to moderate incomes in manufactured homes communities with at least 20 units. The grants, which are funded by HUD, require that the shelter has to be big enough to protect all those living within the community and the area must have a working warning siren in place.
SBA Disaster Loans
The loans offered by the U.S. Small Business Administration (SBA) can potentially be increased by as much as 20 percent if the additional approved funds are used to build a safe room. These are issued in the wake of a tornado that either destroys or damages a home.
USDA Rural Repair and Rehabilitation Grants
Very low-income homeowners who are at least 62 years old and have property in a rural town of no more than 20,000 people can seek a grant of up to $7,500.
The Bottom Line
Tornado safe room rebate programs can save lives and with the state of Texas being a prime candidate for these natural disaster every year, it makes sense to take advantage of their availability. There's no way to put a price on safety, so make sure you have one in place for the future.