News
Home Safe Rooms for 2021: Early Summer Severe Weather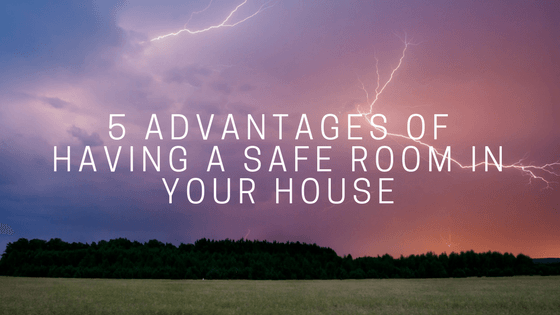 With our summer weather on its way, it's essential to keep an ear open for possible hurricanes and other severe weather conditions like tornados, downbursts, and Derechos. Although we often don't know whether they will extend to our home or business, we can rely on their predictability in turning up each season. 
If you live near the coast, we certainly recommend an at-home storm shelter or home safe rooms. These are becoming very popular as they offer many benefits, but providing shelter in times of violent storms is a top one for families in Texas. 
In this post, we cover why having a safe room in your home or office is important, the additional safety it can bring you, and why it's vital to have an emergency plan for your office. 
Why Safe Rooms for the Home/Office are Important 
At Home
With Texas sitting at the highest average annual number of tornadoes in the US, perhaps it's time to include a safe room in your home. It's an easy way to keep your loved ones safe. Lone Star home safe rooms have simple options to integrate into your existing home, even though they can withstand 250mph winds and over 3,000 pounds of force. Read a recent article on the advantages of having a safe room in your home. 
What Do You Need? 
All you need is a suitable space. Home safe rooms can be a stand-alone above or below the ground shelter. For example, you can install an above-ground storm shelter in your garage or basement, just as long as you can anchor it to a concrete foundation. Another option is to upgrade an existing room in your home, such as a pantry or closet, to become your safe room. 
Reliable Protection
Although the safest place to be during a tornado is underground, basements are still vulnerable to debris and structure collapse. A fully underground residential storm shelter can provide reliable protection but isn't always possible in flood-prone areas. This is where a residential storm shelter comes in handy. Constructed according to federal laws and safety standards, they can offer the same benefit as an in-ground shelter. 
At the Office
Safe rooms are most commonly set up in the workplace to protect employees from violence in the event of a catastrophic situation, such as an armed robbery, disgruntled and armed employee, terrorist event, or even a flood. These solid and fortified rooms can hide workers until the police arrive and deal with the situation. 
What Do You Need? 
Just as for the home, Lone Star can make a safe room as big as you need. All you have to do is figure out how many people you will need to fit, and we can create our custom modular, bolt-together safe room to suit your particular application. You can also turn a storage room or copy room into a safe room. Reinforce walls, replace or back-glaze windows with bullet-resistant transparency, and replace doors with a ballistic equivalent. There's no need to start from scratch. Set up the safe room with essential items such as drinking water, first aid kits, and a cellphone and charger. 
Part of a Bigger Plan
It's vital to remember that a safe room is just one part of a well-thought-out emergency plan for your business. A prompt warning to employees can save lives during times of emergency. Ensure your business develops an emergency response plan for different scenarios, including such things as building evacuation, sheltering from severe weather, and lockdown inside a safe room when faced with acts of violence.
At Lone Star Safe Rooms, we believe in the importance of residential safe rooms and safe rooms for the home/office to protect your family, employees, and the peace of mind they can bring. If you have any questions about installing a residential storm shelter or home safe rooms and the best option for you, give us a call at 817 682 7854 or go to the website.